TO GO TO FIRST PART OF THIS ARTICLE

(left: A face that launches a thousand ornaments- Aishwarya Rai)

These people took up Bharatha Natyam in a big way and made Arangetram into a Social event, to be graced by ruling elite of Colombo. Ruling elite took the opportunity to proclaim their presence as a sort of gesture of good will bestowed on the Tamils. While the Wellawatte circles, considered that their knowledge of Tamil and the chastity of their women folk, points which raised them above the Colombo 7 'crowd'. At the same time being friends with Cinnamon gardens people or having one of them as mentors for career advancement is a matter that put them slightly above, the other Wellwatte counterparts. However, the only people who used Tamil language in buses and trains and were not afraid nor shy were the Muslims of Maradana and the Tamils of Indian origins (recent arrivals) in Kotahena area. Thus 'small small' differences were institutionalized to establish superiority over each other. When you look at it this is not small. It is symbolic of relative prosperity and status people have gained. I am not beating anybody on their heads but I am being a bit expansive and simplistic. That's all. This hierarchy is a drive that needs to be expressed subtly or vulgarly one way or another. This is human condition all of us are prone to - not to be belittled.

MODERN NAVALARS AND AVVIYARS

The modern Tamil young adults in Western world have started to wear ear rings, and nose rings. The males even sport long tufts of hair (Kudumi) but this is not the indigenous Tamil variety of grand dad. This style is reminiscent of Victorian era and brings to mind mainly the Pirates. This may be the results of literary associations - (Treasure Island)! These new images or Tottering old images (which ever you want to call it) are now imitated from the Western youth. The national shirt used by 'vernacular school teachers' (a version of kurta) in Jaffna is making its debut appearance here. This process of re cultering is called two stage process (Aeratha Medukku erandu thulai) in Jaffna parlance. To irrigate very high land (medu), one Thula (aetram) is used to get to an intermediate level and then the water is raised to its final height by a second Thula. Thus the elements of our great grandparent's culture are being first discovered by the Western fashion world and Western Youth and then our youth imitate it.

Thus without the help of Cultural Societies' educational efforts, Tamil culture is being introduced to our youth. Now, things like Thalai pahai (head gear used in Weddings), Uththreeyam (well folded shawl), Panchakatcham (unstitched baggy pants), Rudraksham (holy beads) will very soon be picked up by haute fashion world as 'Chic & ethnic'. So why should this be a surprise? Remember Gandhi and his dhoti. What is more, the traditional cumbersome 9 meter saris - Madisar can easily metamorphise into a seductive dress fit for a Madonna. It can be made to reveal and hide with a flair. Remember beauty is only in the eyes of the beholder. Get hold of a model and hide her (or rather unhide her) - I wouldn't want to use the word 'dress' here- in one of these outfits and you have made it boy. You bet, in due course our youth will dress like Arumuga Navalar, Olaviyar, Kunthavai Dhevi and parade as our cultural role models!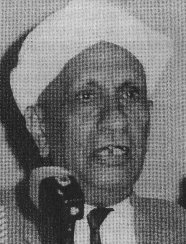 ( left: Sir C V Raman Nobel Laureate in Physics. His head gear "Thalai Pahai" accompanied him to the Nobel award, another example of visual statement- if you are sure about yourself, it elevates your dress to high fashion- like Gandhi mentioned earlier and Kanchi Shankarachariyar to follow. "inner strength projecting the image" this lifts the entire community in the eyes of the world and is a dimension of its own)

These imitations are traits that they pick up from us. Just as we learnt to wear trousers/suits and discarded loin cloth (kovanam) or poor man's under wear to don knit under wear. We do not accept the traditional values unless these are endorsed by foreign sources. This is the result of 400 years of cultural domination by the West, the Moguls etc. It has been a deep rooted belief that whatever, the Westerners are doing is considered to be Nagareekam or culture. Their endorsement of our customs and values are necessary for us to have faith in them. I am not promoting Indian dress for our daily wear here, that would be bizarre. But these should give us a clue not to go overboard. It si not fault finding.

ORNAMENTS IN CLASSICS

Nowadays I have also noticed that some smart ladies wear two or more ear ornaments in each ear. Not the clip on stuff mind you, the real pierced McCoy. On top of this ornament, nose wear has become an accepted norm among the Western young women. This business of two earrings per ear (gold flower- Poo Vazhi, Kaddukkan, ThOdu ) and a nose ring are something my grand mothers and their generation did sport. The gravitational pull of heavy ear hardware exerted over decades elongates their ear lobes by good few inches and became a very noticeable feature. These gem studded ornaments executed a simple harmonic motion (SHM) as the ladies argued -literally a brilliant, dazzling argument.

( Left: Example of simple pendulum executing a dazzling SHM y = ASin(wt) Aishwarya again)

Last two generation of women had given this up in revamping their fashions and styles in their own quite way

.(below: Film Scene of unfailing mass appeal. From Kamban down to the ordinary folks there is some thing for everybody in it; courtsey Kumudham Webb pages)

Another feature noticeable among the young women here, is the wearing of rings round eyebrows and lips! I am impelled to inform them of other more exotic ornaments such as Mekalai used to adorn various interesting parts of the anatomy. These are well documented in Tamil Classics. In particular, Kamba Ramayanam goes to artistic excellence on such matters.
This aside episode of Bharatha(n) and his entourage crossing the Ganges - the splashing of the waters on the royal ladies and the enthralling transparency effects, in chosen words only a master craftsman like Kamban could excel. The secondary school students who normally hated Tamil classes reveled in these tabooed stanzas and taunted the usually fastidious Tamil teachers by asking for meaning of key words. These sections incidentally were left out of the text books but were freely available thanks to the DMK movement. These 10 cents books were hanging on the betel beedi shop booths across cinema halls, They were meant to "rationally" (Pahuth-Arivu) discredit the Ramayana(m) but as usual in such context they increased the visibility of the classic in young men's eyes. Looking back, it was such an innocent affair (excursion in words) compared to what is happening in this area nowadays. But that was another time....
(Left : An Image of Madurai Meenadshi Amman- The cache of treasures includes an ancient Greek (yavana ) captain's gift of gold chain made of Roman/Greek coins -dating back several centuries and numerous other priceless antique ornaments)
(Right : Kanchi Periyavarl : a study of elegance in simplicity. revered as Nadamadum Theivam. His books are a veritable treasure house of inspirationalwisdom and exotic knowledge)
Soundariya Lahari of Adi Sankaracharya describes the ornaments ( metaphorically) worn by the universal mother Parvati in a luxuriant style attaining an artistic excellence difficult to match. I have no knowledge of the originals. But listening to the majestic recitations- and by the excellent story telling technique of Kanchi periyavar in his books " Theivathin Kural" (Voice of Divinity). These books are a treasure house of winters' tale and a serenade of moon light beams. A soothing experience. The meaning of Sanskrit words were understood only vaguely by me, like a modern painting, which makes it sound even more mystical than intended, to a layman. Even a formless mother principle has to be invoked by this renowned advaitst in visual terms. Power of poetry arising from a creative mind is of yet another dimension. ( Note:Edited from postings in Soc.Cult. Tamil, Thamizh Thendral articles and Radio talks. Hence some overlapping)